An Encyclopedia of Practical Psionics
We are pleased to announce the publication of our first lab journal: The Radionics Evolution Psychotronic Lab Journal Vol. 1.
Each issue, which we anticipate to be at least a quarterly release, will contain a smattering of real-world psychotronics.  
The random information, bound within a structured, reliable format proves itself to be decidedly useful for the average radionics practitioner. 
The entries in each issue are drawn from the real-world work and research of the Radionics Evolution team. 
The following structure can be found in this issue, as well as those to come. 
Introduction
Theory
Practice
Use Cases
Templates/Charts/Printables
Under each of these categories can be found several representative articles. 
Our first Lab Journal came in at a respectable length (almost 30 pages), and is densely packed with psychotronic knowledge.
Some of the topics covered include:
The Psychotronic Application of Standard Electronic Components
Training for Psychotronic Mastery
Panic Radionics: Using psychotronics in a crisis
Universal Interrogation Chart
And of course, a great deal more. We are certain that this journal will prove itself a treasured resource for any serious practitioner.  The ongoing publication of volumes will quickly see the RE Psychotronics Lab Journal as a prized collection of exclusive theory and practice in many areas of psychotronic interest: radionics, psychic tech, cybershaman/technomage, etc.
Get Your Free Copy Immediately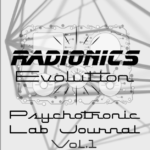 We don't anticipate every volume being offered for free, but this first one certainly is. Claim yours below. You will be added to our notification list for exclusive access to forthcoming publications and interactive features. We will never spam you or be a nuisance.